---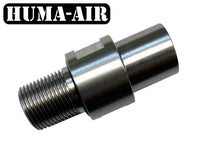 Huma Adjustable Regulator
Huma-Air Tuning regulator for the RAW HM1000x Airrifle

This unique Huma-Air regulator for the RAW HM1000x and HM1000 is specially designed as a "one on one" replacement regulator for the RAW rifles and solves all your original regulator problems instantly!
The regulator is very consistent over the total pressure range of the buddy bottle and it can be screwed into the action within a minute. Our ultra compact build will ad some extra CC's of regulated volume to your rifle.
Made of massive stainless steel and vented to the atmosphere. You rifle does need to be equipped with the V-shaped fillport and pressure gauge connector.


There are 2 models regulators used in the Raw models for the "HM" and "HMX"

HM model regulator has an outside diameter of the treads of 16,6-16,7 mm and the serial has "HM"in it.
HMX model regulator has an outside diameter of the tread of about 19 mm and the serial number has an "X" in it

 
The benefits of the Huma-Air tuning regulator for the RAW HM1000x:
Higher accuracy of your rifle due to the elimination of the pelletspeed fluctuations
A constant pellet speed over the full working pressure range.
It will give you a better shotcount and a full flat shotstring immediately.
the compact build will give you some extra regulated volume
Easy adjustable pressure setting.
When you order your Huma-Air Tuning Regulator for the RAW HM1000x you will receive:
Your regulator preset on the test pressure. Fine adjustment needs to be done on the rifle

Valve push pen what screws into the regulator to open up the valve of the buddy bottle

We will include a "Huma-Air regulated" breech sticker;

Fitting instructions are currently not available
Pressure settings of the Huma-Air tuning regulator for the Raw HM1000x:
The regulator comes preset on the most common pressure setting.
The output pressure is stepless adjustable from about 80 up to 190 bar. An half turn contra clockwise of the regulator setscrew will give about 20 bar increase of pressure



IMPORTANT NOTE FOR  USERS OF THE "BEST FITTINGS" RAW REGULATOR TESTER

If you are planning to use a "Best Fittings" stainless steel Raw Regulator tester, please note these testers are cut close to the tollerances and our stainless steel regs are cut likewise. Due to the fact both items are made of the same stainless steel they are prone to fretting or galling.
Use enough and proper lubricant  to prevent this. 
 


Huma-Air Quality Control
Huma-Air regulator's are CNC produced out of stainless steel, high grade aircraft Aluminium and bronze.
To guarantee a perfect product, every regulator is manually assembled and tested.
We only use high-end materials and our belleville springs are designed for critical applications to achieve the highest repeat accuracy. This gives our regulators a repeat cycle less than 1% difference.