---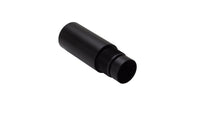 2.5" Plenum Mk3 for FX Wildcat by 910 AGTR
Long awaited, the MK3 Plenums are here! This newest model of the 2.5" plenum extension, originated by Ernest Rowe, has had special features added to the design here at 910 AGTR. This version has been made to accommodate the FX Wildcat MK3, but can be used on FX Wildcat MK1 and MK2, as well as the FX Streamline.
**Note** - This plenum is only intended to be used with the factory FX AMP tube regulator (silver regulator inside tube). Other regulators will void the warranty on this product. 
Now featuring the following aspects: 
Made with spacecraft grade 7075-T6 Aluminum - for the utmost safety
Pressure tested past 350 Bar - for quality control
Internal diameter bored out more - to allow Wildcat Mk3 tube end and more volume
Built-in regulator spacer - for any FX 34mm air tube where the regulator uses a spacer
Don't worry about the weight - weighs less than 3 ounces! 
Semi-gloss black finish - matched as close as possible to the FX air tube color
O-Rings included - Every plenum is shipped with 23x2.5 Buna 70 and Viton O-Rings. 
Note: NEVER exceed 230 Bar in your FX 34mm air tube! Just because the plenum can handle it, does not mean the air tube can. 
Color is not exact match to the air tube due to the different material used. 
Unfortunately, the plenum ended up being about 0.25mm smaller outside diameter than the FX 34mm air tube (measures 33.75mm OD). This will not cause any issue with the plenum, performance, or fitting, and is barely noticeable. 
Comparison and In stall