---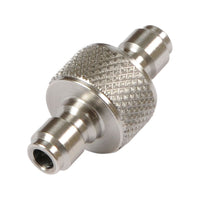 Quick Coupler Decanting Connector
custom made adaptor to decant between 2 cylinders fitted with our QC02 Snap Connectors or compatible Foster 12FS, 12FSS and 12MS Straight Thru Quick Snap Couplers.
Simply connect the 2 female sockets together with this unit, and decant as through a conventional decanting hose.
High Quality Stainless Steel, made in the UK.
MAX WP 300 BAR, 4500psi