---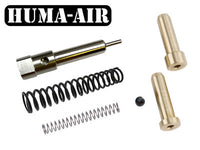 FX Impact Slug Power Tune Kit By Huma-Air
Slug Power Tune Kit For Your FX Impact By Huma-Air
On special request of our customers, we made this power tune kit for the FX impact.
This power tune kit consists of the items below to get maximum performance out of your FX Impact;

- Pin probe for maximum air flow trough the transferport.
- Power Tuning Hammer- and Valve Return Spring Set:
1x Valve Return Spring: 
This slightly weaker valve return spring can be used on any FX Impact equipped with the genuine FX Power Plenum. This spring has a bit weaker powercurve compared to the original valve return spring what will result in a bit longer valve opening time to get some more extra power out of your rifle.
It's great when you want to tune your FX impact for slugs or hybride slugs.


1x FX Impact Power Tune Hammerspring

This hammerspring has a bit more higher powercurve compared to the MKI hammerspring what will give you more flexibility and power adjustment options when using the powerwheel of your FX Impact.
It's great when you want to tune your FX impact for slugs or hybride slugs and we prefer to use this spring over the factory spring when you use the powerplenum in the MKII

1x NBR Buffer Ball

The rubber buffer ball is placed inside the spring and limits the stroke lenght of the valve. 

-FX Impact Hammer Weight Tuning Set
This set of two different sizes of hammer weights for your FX impact are perfect if you want to do a powertune on your FX Impact. The standard hammer weight FX uses is about 6 gram. Our set contains 2 weights; 1 x 6,9 gram and a 8,5 gram so you can setup your rifle exactly to your own wishes.
They are compatible with the FX Impact MKI, MKII and M3.

Optional:
In combination with our 
Dual Hole, V2 high flow transfer port
 you will gain the ultimate performance out of your FX Impact specially when you shoot slugs.
Please note:
Any modification done to the airflow of your rifle, will affect the entire setup and performance, you might need to re-adjust the settings of your rifle again to get the best possible performance.
Available in .22, .25 and .30. For the .35 we have a seperate kit available 
here