---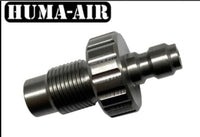 FX Quick Fill Bottle Adapter
Quickfill adaptor with foster male for filling up your spare FX air bottle without loosing air
This solid, stainless steel, quickfill adaptor with foster male connection can be used to fill up your spare FX air tanks. Our special design makes sure you do not waste any air when the adaptor is screwed on- or off the bottle so you will always keep the maximum pressure left in the bottle.
The same way you normally fill your FX rifle, with your scuba tank and fill set, you can fill up your spare FX air tank. Just screw the adaptor into the bottle, connect your fill set with hose to the adaptor and fill up the bottle slowly to the maximum allowed fill pressure, close your scuba tank and depressurize the fillset and hose and you are ready. The quickfill adaptor can be unscrewed on- and off the bottle without losing any air.

The quickfill adaptor for FX bottle's is also equipped with a M4 treaded hole where a headless M4 allen bold can be screwed in, to open up the bottle's valve so you can depressurize a bottle.