---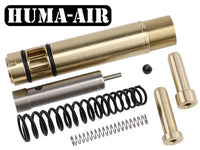 Slug Power V2 Cal .35 Tuning Kit For FX Impact by Huma-Air
Slug Power V2 Cal .35 Kit For FX Impact by Huma-Air
This Slug Power V2 Cal.35 set comes with our V2 dual hole transferport, a high flow pin probe, 2 different types of hammerweigth and a set of our tuning hammer spring and tuning valve return spring.
Together this set will allow you to get the maximum performance out of you large caliber .35 FX Impact when using slugs. 
The set is also suitable to use with pellets

 
1x Dual Hole V-2 Transfer Port and Pin Probe
The V-shaped transfer opening makes sure you will have the maximum and smoothest air passage area. The middle support bridge divides the transfer port into a dual hole port and the middle bridge makes sure the pellet or slug nose cannot fall into the enlarged transferport hole, but will be guided smoothly by the middle bridge into the barrel. The set also contain our High Flow Pin Probe for maximum airflow behind the projectile

1x Valve Return Spring: 
This slightly weaker valve return spring can be used on any FX Impact equipped with the genuine FX Power Plenum. This spring has a bit weaker powercurve compared to the original valve return spring what will result in a bit longer valve opening time to get some more extra power out of your rifle.
It's great when you want to tune your FX impact for slugs or hybride slugs.
 
1x FX Impact Power Tune Hammerspring
This hammerspring has a bit more higher powercurve compared to the MKI hammerspring what will give you more flexibility and power adjustment options when using the powerwheel of your FX Impact.
It's great when you want to tune your FX impact for slugs or hybride slugs and we prefer to use this spring over the factory spring when you use the powerplenum in the MKII

2 xHammerweights
Two different types of hammerweights are included in the kit. We made 2 models of this hammerweights, one slightly heavier compared to the factory model hammerweigth and the second one is again some heavier as the other.

In our own test setup we gained about 30 to 40 fps more speed to our slugs without changing any other variables.


Please note:
FX uses a medium strength treadlocker to fixate the transferport to the barrel to prevent the barrel coming loose. We strongly advice you to use a treadlocking adhesive like Loctite® 2400 also specially when you are working on these high power levels.
Any modification done to the airflow of your rifle, will affect the entire setup and performance, you might need to re-adjust the settings of your rifle again to get the best possible performance.